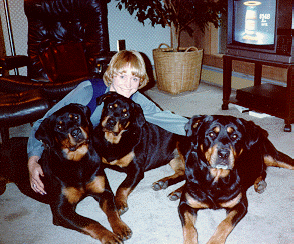 We are the proud owners of seventeen generations of outstanding temperaments and exceptional champions and companions.
All our dogs have been fed on a natural raw diet with outstanding results. Health warranties and instructions are given with every puppy.
We love our dogs, bitches, and puppies. They are special here and we want them to be special "out there." You don't just buy a Rotti from Winns Hill - you qualify for one. As part of the process, we welcome and encourage visits. We want our Rotties to have homes, not just owners. Rottweilers are a very special breed. We're special... find out how and why. Generally available from 6AM to 11PM EST.
Rick and Eddy Golt